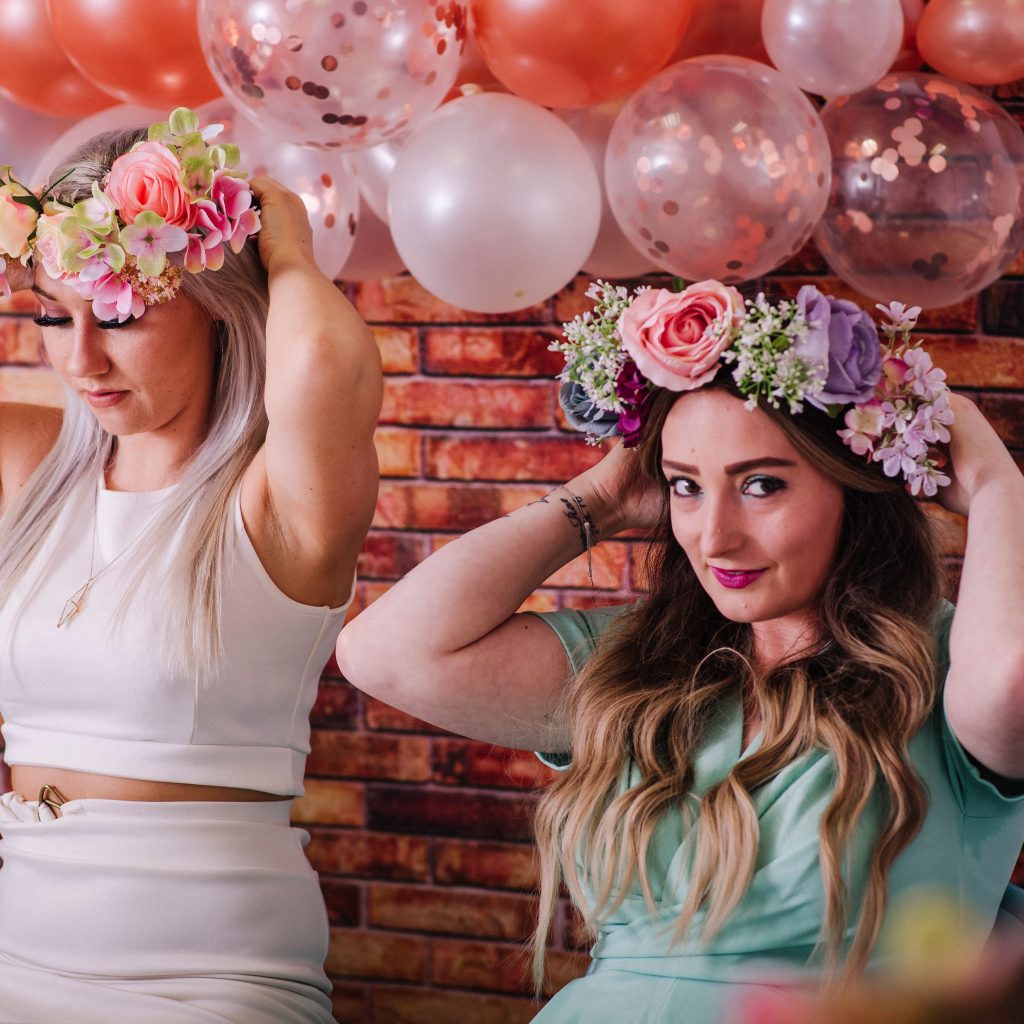 Want to know more about fresh and artificial / faux flower crowns, how they are made and how long they last? Who's wearing them and how to look chic and stylish in one please check out our FAQ's below.
Fresh Flower Crown FAQ's
How long does a fresh flower crown last?
1-5 days
Some flowers are more delicate than others and it is all based off of how strong their stock is. In general, with basic care, a crown can last from 1-5 days and for some flowers, up to 1 week before completely drying out. Obviously an artificial or faux flower crown will last for years and can be wonderful reminder of that special occasion
Can you make a fresh flower crown the day before?
Build it too far in advance and, despite your efforts to preserve your crown, it will begin to wilt or discolour. Generally speaking, you should plan to assemble your fresh flower crown the day on or the day before you will wear it. It may be worth thinking about an artificial
flower crown
for your big day.
What flowers are best for fresh flower crowns?
Some flowers and plants that are great for making your own flower crown include:
Chrysanthemums.
Daisies.
Gypsophila / Baby's-breath.
Roses.
Orchids.
Magnolia Leaves.
Lisianthus.
Most succulents.
Airplants.
Seeded Eucalyptus.
Thistle.
Wedding / Bridal Flower Crown FAQ's
Should I wear a flower crown to my wedding?
Every girl wants an excuse to wear flowers in her hair, which may explain why flower crowns have become one of the most popular bridal accessories. Lots of celebrities have worn stunning flower crowns on their big day including Audrey Hepburn, Kate Moss, Sharon Tate and Brigitte Bardot. If you want to find out more about celebrity wedding flower crowns why not check out Vogue's
Seven Ways To Wear A Flower Crown (Like A Movie Star) On Your Wedding Day
Why do brides wear crowns?
A bridal crown, along with the bridal wreath and veil, is probably the oldest decorative form of headdress worn by women. With it the bride would symbolise her purity and it was also a status symbol for her family.
Can you wear a flower crown with a veil?
Why are Baby's Breath flowers so popular for bridesmaids and flowergirls?
Baby's breath flowers symbolise innocence and purity, but it's also a symbol of everlasting love and emotions that never die. This flower reminds us to always cherish the ones we love and to show them affection.
How do you secure a flower crown in your hair?
Grab some bobby pins or hair pins and connect your twist hairstyle to your flower crown. Also pin through to attach to the rest of your hair too. This will make it more secure so you won't have to worry about it falling out. Another simple way to secure your flower crown is to wrap your hair tightly around the wire of the flower crown. If you'd like to know more why not check out this tutorial on
2 ways to wear a flower crown
.
Childrens Flower Crown FAQ's
How do you make a flower crown for kids?